The Nordstrom Anniversary Sale is officially here! I'm so excited to be your resource throughout the sale. Below you'll find a huge Nordstrom Anniversary Sale try on haul with over 25 fall outfits for all occasions. Whether you are looking to add a few pieces to your wardrobe, looking for work wear staples, or are in need or a great new pair of boots for fall, I've got you covered! I've hand selected each item with you in mind! Each piece is timeless and classic so that you can wear them multiple ways through out the fall and winter seasons.
Loverly Grey Nordstrom Anniversary Try On Haul
SHOP THE LOOK

One of my favorite things to pick up during the Nordstrom Anniversary Sale is activewear. The Zella brand and Sweat Betty brand are some of my favorites from Nordstrom. This knot front tank is one that you can wear now with bike shorts or pair with leggings and a jacket for fall. I'm also super excited to grab these Adidas Ultra Boost sneakers. I have a pair in a different color combination that I wear constantly, so naturally when I saw this pretty neutral pair I just had to have them!
SHOP THE LOOK

It's no secret that I love a good long sleeve dress in the fall. The material on this one is light weight, making it perfect for those transition months when it's not super hot, but not quiet cold yet. I also love that it's a little textured, so it doesn't show wrinkles. Because it's a mid thigh length, I paired it with knee high suede boots for a little added coverage. You could also pair with sneakers and a faux leather jacket for a more casual feel.
SHOP THE LOOK

This Free People sweater is a must buy if you ask me. You can wear with jeans, leggings or over a dress! It does run oversized naturally, however I would recommend sizing down. Even in my normal size, it was extremely large. It comes in a few other colors as well. There was a slightly cropped version of this same sweater from last year and I got a ton of wear out of it. I loved that it was warm and cozy, while also being super versatile.
This leopard dress was top seller last year. You all loved it just as much as I did. If you didn't get a chance to grab it then, I would highly recommend picking it up this year. Grab your normal size. It's perfect for wearing to work in the fall or grabbing dinner with friends. I would even wear this with sneakers and a denim jacket more casually on the weekends.
SHOP THE LOOK

If you're on the hunt for a little black dress, this one is stunning! It's a little more on the fitted size, but I would still recommend getting your normal size. The mock neck detail makes it super chic! You could easily wear this to work throughout fall and then throw a blazer over the top in the winter.
SHOP THE LOOK

I'm always a fan of a good midi dress in the fall! This long sleeve sweater one is super flattering. I would wearing this to work or even for Thanksgiving dinner with family. Add a long line faux leather trench coat over the top to complete the look. I grabbed my normal size in this and it fit perfect. If you haven't picked up a pair of these heels in past Nordstrom Anniversary Sales, I would highly recommend them. They are the perfect neutral pointed to heel and very comfortable too.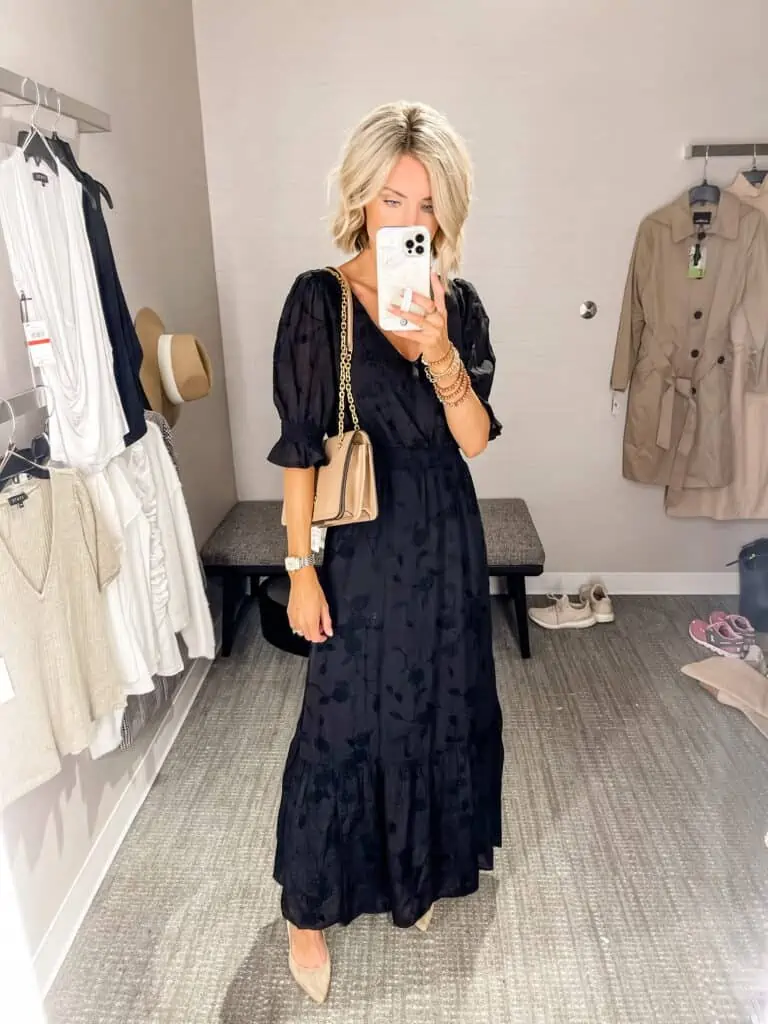 SHOP THE LOOK

I could not get over the detailing on this dress. The picture online does not do it justice. The slight puff sleeve detail combined with the floral embroidery is so pretty! I paired it here with neutral pointed toe pumps for an elevate look. You could wear this to a fall wedding or even a work event.
SHOP THE LOOK

This long sleeve sweater dress is super comfortable. I loved it so much, I grabbed it in both colors. It's the first sweater dress I've seen in a while that is a little more flowy and loose. Pair it with ankle booties or knee high boots if you're going for a more elevated look. It hits mid thigh, so if you're taller than 5,5 it may be a little short. You could also layer this with the Spanx faux leather leggings for my taller friends and wear as a long tunic.
SHOP THE LOOK

This is the same camel sweater from above, just in the cream! I love it paired with the suede skirt and boots for a classic fall look. On the right, I've also styled it with black jeans to show just how versatile this sweater can be. It does run oversized naturally, however I would recommend sizing down. Even in my normal size, it was extremely large. The skirt doesn't have a ton of stretch, but I would still recommend getting your normal size. To see this skirt styled a few more ways, keep scrolling!
SHOP THE LOOK

Another signature Loverly Grey piece is a good graphic tee. I love that you can do so much with a simple graphic tee. Here, I've styled it both with a suede skirt and classic skinny jeans. However, you could also wear with leggings and a cardigan or with mom jeans and a blazer. You could even pair this tee with shorts and sneakers now!
SHOP THE LOOK

This off the shoulder top is one that would be perfect for an event, date night or girls night out! I love that the gathering at the top is comfortable and helps to hold the top in place, instead of sliding up off your shoulders. The sleeve detail makes it even more flirty and fun! Pair with a skirt and boots for a more elevated look or jeans and flats for a more casual vibe.
SHOP THE LOOK

The Nordstrom Anniversary Sale is a great time to stock up on basics like long sleeve tees and open front cardigans. These are both pieces that make for easy layering. It seems like I can never have enough basic white tees. I'll pair them with jeans, skirts, knotted over dresses and even with leggings on a comfy day.
I'm loving the shape of this open front cardigan. You can easily throw this over a tee, as shown, or over a dress. I love wearing these in the fall when I need a little extra warmth, but I'm not quiet ready for a jacket or coat. This open front cardigan come is a few other colors as well.
SHOP THE LOOK

This off the shoulder thermal tee is the perfect combination of chic and comfortable. I love that I can wear this look for a casual date night or with leggings handing around the house. Below, I styled the white version with medium wash skinny jeans and boots for a slightly more elevated look.
SHOP THE LOOK

I'm always on the hunt for nursing friendly work wear for my fellow mamas. This wrap top is perfect for just that! It also comes in black, so go ahead and get both colors. Layer a blazer over the top and pair with jeans for a casual work day or switch out the jeans for a skirt for a more professional look.
SHOP THE LOOK

When it come to coats and cardigans, I like to keep it simple and classy with clean lines and traditional styles like this trench coat, long line cardigan and camel coat. All three are wardrobe staples that will easily transition from outfit to outfit with minimal effort. It's also an easy way to take a summer look and transition it to fall, by adding one of these structured layers.
There are only two items that I splurged on this year, the first was a pair of Gucci sunglasses and the second was this coat! While it is a higher price point, I know it's a piece I will wear continuously for years to come. If you're looking to invest in a coat that will last, I would highly recommend this one! I'm wearing an XS and would say it runs true to size.
SHOP THE LOOK

For a casual fall look, pair a color block cardigan with a graphic tee and skinny jeans. If you're wanting to go even more casual, swap out the skinny jeans for mom jeans and add sneakers. Or if you're wanting to dress the look up a bit, add heels and trade out the jeans for black pants.
SHOP THE LOOK

I'm all about a great pair of statement sunglasses. I splurged and treated myself to these Gucci cat eye sunglasses. In the fall and winter, I usually grab my black pair more than my tortoise shell pairs, since I'm usually in darker colors. I'm rounding up a few pairs of affordable sunglasses for you as well. After all, you can never have too many sunglasses!
SHOP THE LOOK

If you've been wanting a pair of white sneakers to wear with dresses, skirts, jeans and leggings, I would highly recommend this pair. They are super comfortable and will pair easily with just about anything. The best part is, you can wear them all year long! No need to wait until the temperatures drop.
I also loved these cubic zirconia studded earrings. They are such a good everyday earring to have in your collection. Plus, you can't beat this price! These would also make a great gift if you're looking to get a jump start on your Christmas shopping.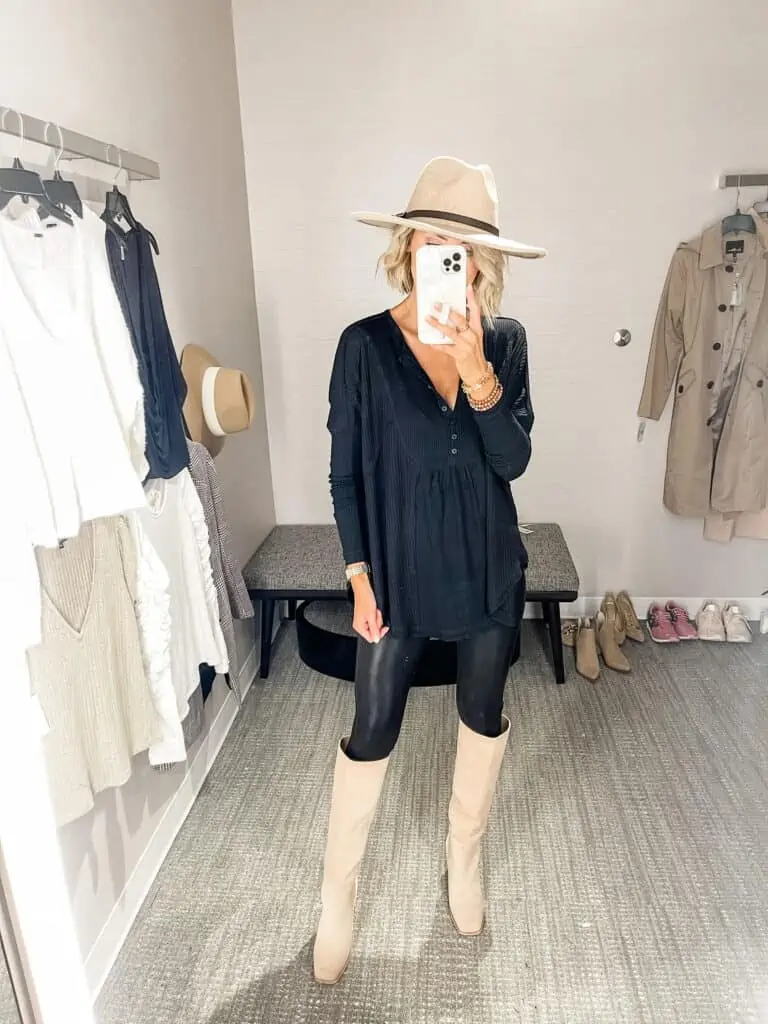 SHOP THE LOOK

I loved this top so much in the white last year that I picked it up in black! It's seriously one of the most comfortable tops that I own. Plus, it's held up great considering just how much I've washed it. I paired it here with my go-to faux leather leggings and knee high boots. You could also wear it with the faux leather legggings and sneakers for a more casual fall outfit.
SHOP THE LOOK

I hope this helped to inspire you to create multiple outfits within the pieces you choose to purchase during the sale. Feel free to bookmark this post and come back to it It's meant to be used as a resource throughout the fall and winter so that you never end up in an outfit rut again!
Which Nordstrom Anniversary Sale look was your favorite from the try on haul?