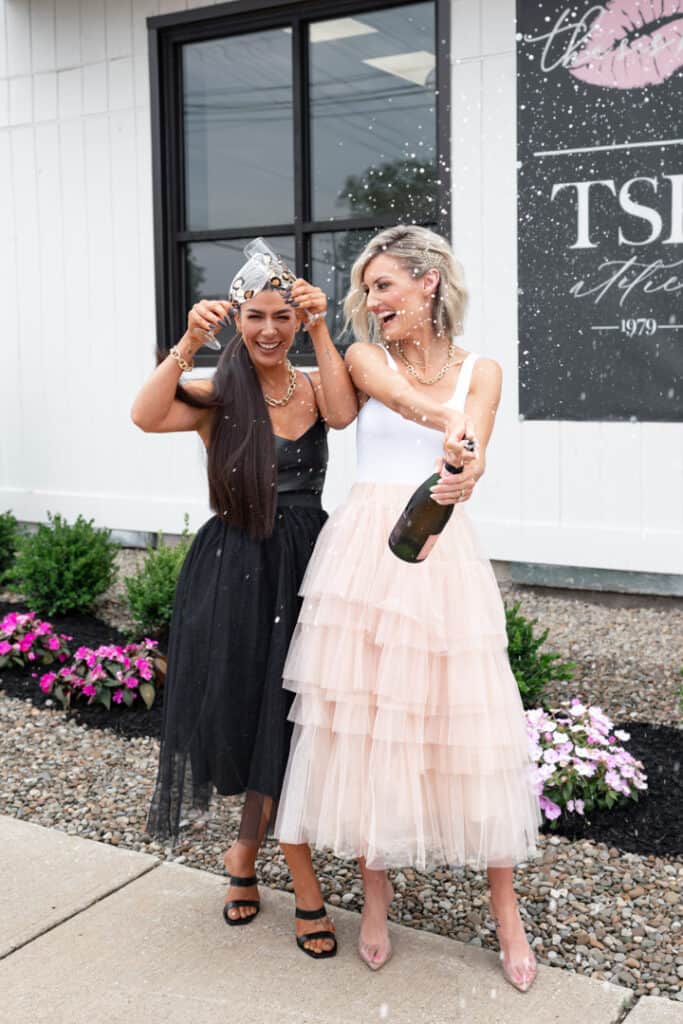 I'm so excited to share the details on my five piece collection with The Sis Kiss! This collaboration has been in the works for the past two years and to see entire collection launch is a dream come true. Each of these pieces have been hand selected and designed with you in mind. I really wanted to create a collection that is perfect for everyday wear, and I think we achieved just that. You can wear these all together, at the same time, or individually! I also love that you can start with one piece and slowly build your collection over time.
Sterling Silver Pieces | 20% off with code LOVERLY20
14K Gold Pieces | 10% off with code LOVERLY10
THE LOVERLY GREY X SIS KISS 5 PIECE COLLECTION
Five Stone Dotted Necklace
We launched the first piece of the collection back in June of 2021. I knew I wanted to get this piece into your hands as soon as possible. It's one of those classic, simple staple items that you can wear for years to come. I mean it when I say, if I could only wear one piece necklace for the rest of my life, this would be it! Based on the feedback I've received, you all are loving it as much as I am.
It was super important to us that we were able to offer this piece at an affordable price point, in case you weren't in the market for fine jewelry, you could get the same look for less. We did this by creating a sterling silver micron plated option with pavé crystals ($75). However, if you're looking to invest in a piece that you'll have for years to come the 14k gold diamond necklace ($650) is great option! With the holidays right around the corner, this would make an excellent addition to your holiday wishlist!
SHOP THE CRYSTAL DOTTED NECKLACE | SHOP THE DIAMOND DOTTED NECKLACE
Hammered Bar Necklace
The second piece in the collection is the hammered gold bar necklace. I wanted something that was a choker length that sat up higher on the neck. However, we did add a 4 inch extender, in case you are wanting to wear it a little longer. This piece also comes in both the sterling silver and the 14k gold options as well!
SHOP 14K GOLD HAMMERED BAR NECKLACE ($350) | SHOP STERLING SILVER GOLD HAMMERED BAR NECKLACE ($68)
Coin Necklace
For our final layering piece for our trip of necklaces, we opted for a classic gold coin. When creating the design for this, I was inspired by a rose floral drawing that I have in my office. We were able to put this on the front of the coin for added texture. Another feature that we added is an adjustable sliding extender that allows you to wear it long or short. I love the flexibility of being able to adjust this because it means you can wear it with just about any look!
SHOP STERLING SILVER COIN NECKLACE ($84)
Gold Bar Earrings
Another piece that I knew I wanted to add to the Loverly Grey x The Sis Kiss Collection is a great staple earring that can be worn daily. The gold bar earring is dainty, but gives you just enough sparkle to give you that put together feeI. I wear mine everyday in my second ear hole and rarely ever take them out. However, if you only have one ear hole, these would be a perfect everyday option that you can shower, sleep and repeat in!
SHOP STERLING SILVER GOLD BAR EARRINGS ($42) | SHOP 14K GOLD BAR EARRINGS ($150)
5 Stone Bracelet
The final piece to our five piece collection is the 5 stone bracelet. If you have the dotted crystal neckalce from above, this is a great next addition to your collection because they almost look like a set! I wear mine every single day and receive so many compliments on it! If you're starting your holiday shopping early this year, I highly recommend this as a gift for a friend, your mom or even your mother in law!
SHOP STERLING SILVER 5 STONE BRACELET ($60) | SHOP 14K GOLD 5 STONE BRACELET ($500)
SHOP THE LOVERLY GREY X SIS KISS COLLECTION
Our goal with this collection was to create timeless pieces that boost your confidence daily and can be paired with anything in your wardrobe. Where you are rocking the sterling silver or the 14k gold option, you are sure to look effortlessly chic with this collection. We hope you love it!
Sterling Silver Pieces | 20% off with code LOVERLY20

14K Gold Pieces | 10% off with code LOVERLY10

Which piece are you adding to your cart?