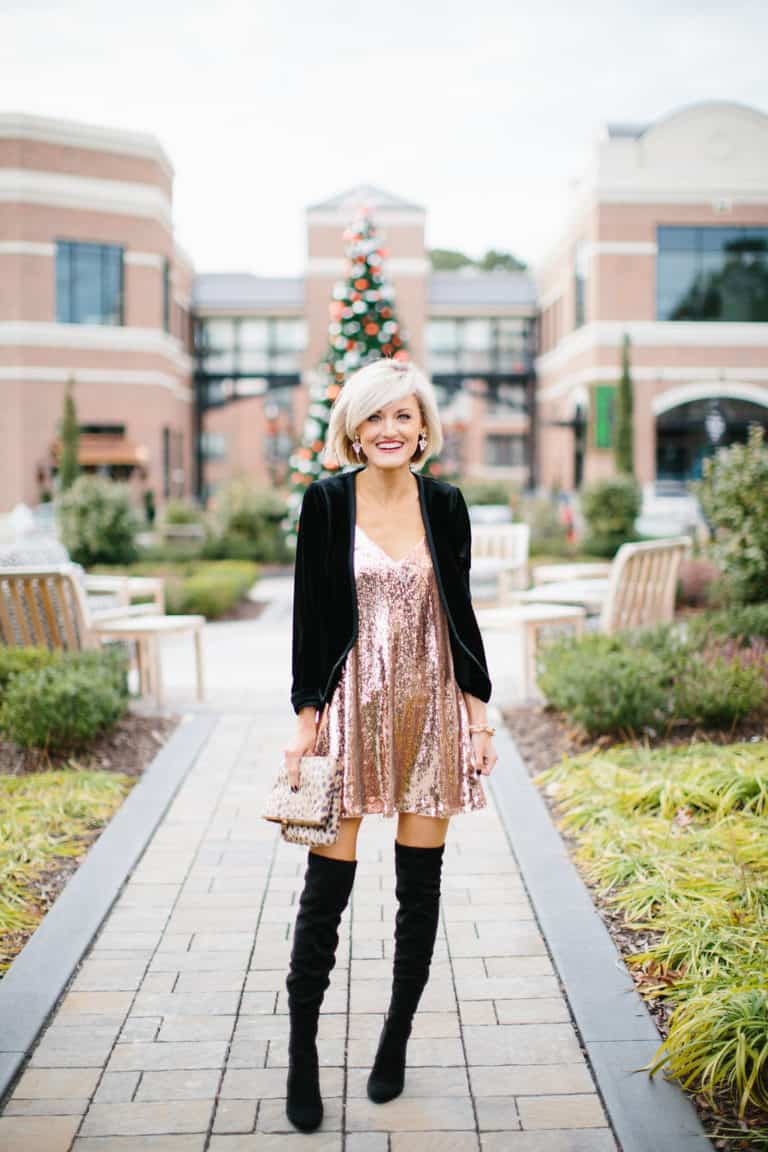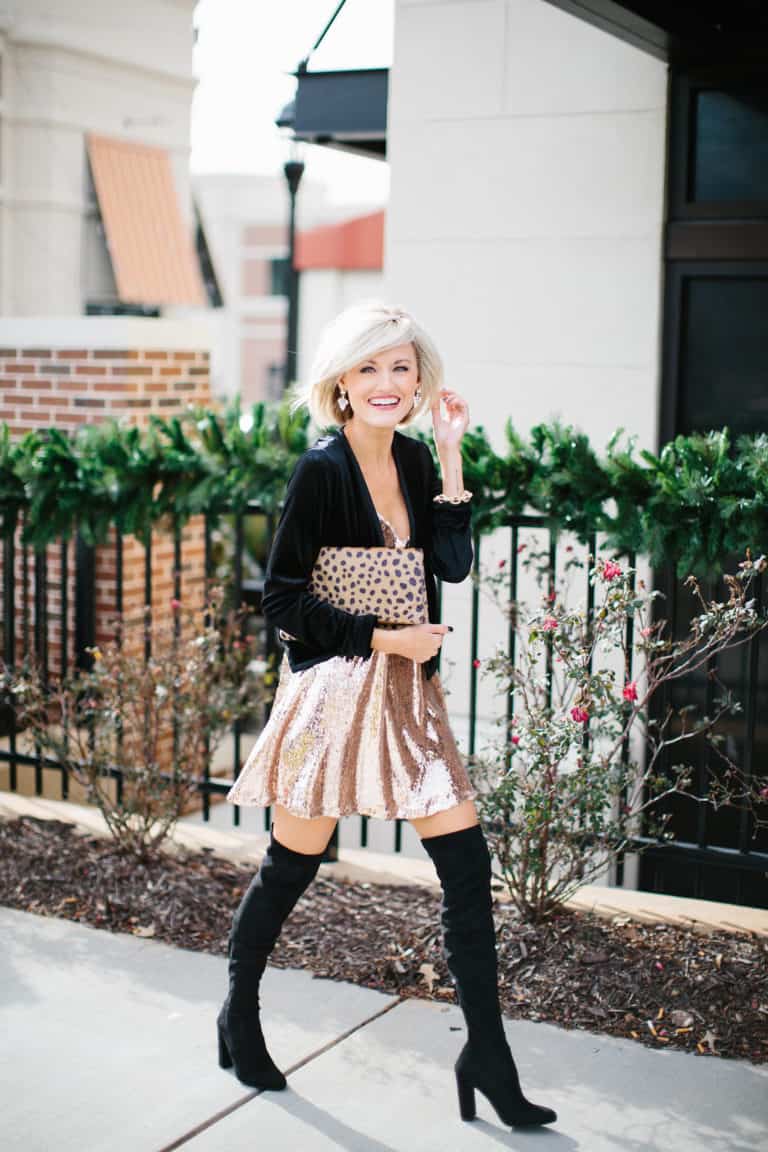 Dress \\ Over the Knee Boots \\ Clutch \\ Link Bracelet \\ Sparkly Earrings
Who is excited for 2017? I cannot wait for the New Year to arrive. I have some big things coming your way. Before we get into that, let's talk about what you are wearing on NYE!
Chris and I will be going to Charleston to bring in the New Year! Charleston is one of my absolute favorite cities in the South. Chris's best friend turns 30 on New Year's Eve so when we got invite to celebrate with them, we couldn't pass it up! We rented a house with a few other couples for the weekend right on King Street. On Saturday, we will be starting the night off with dinner reservations at The Grocery. I can't wait!
A few weeks ago I was scrolling through my Instagram and found this beautiful sparkly dress from Honey and Hazel – they are a local Alpharetta boutique! I knew this dress would be perfect for New Years! I recently purchased this black velvet blazer from Target and knew they two would be the perfect combo together.
So a little more on the dress. First of all, I love sparkles and sequins for New Year's! So when I saw this one, I was like, YES!! It's got an open back with thin straps that cross over your back. The front is low cut but not too revealing. And the length is perfect to pair with over the knee boots (LOVE these new ones I just got from Steve Madden).
For my accessories – I'm going with sparkly drop earrings, a leopard print clutch (also from Honey and Hazel) and my favorite link bracelet from J.Crew. I love mixing patterns so i'm really excited about the sparkles with the leopard print #praisehands!
So if you are getting all the feels right now then you need to order this dress ASAP. All you have to do is call my girls over at Honey and Hazel and they will ship it to you! Their number is 678-585-0065.
I've also included a few other sparkly numbers that are perfect for celebrations! Shop them here:

Accessories:

If sparkles aren't your thing, my next favorite party dress is all black. I recently gave a few comments to Glamoutfit on what to wear for New Years Eve and all black was my second favorite option. You can check out the article here. So i've added a few beautiful black dresses below:

Whatever the New Year has in store for you, I hope that you are with the ones you love celebrating in style! I'd love to hear what your favorite NYE looks are – comment below!
Photos by – Paige Molina